Our flagship device was chosen by Qualcomm to feature their groundbreaking Snapdragon XR1 microprocessor, designed specifically for smart glasses. This microprocessor enables a combination of voice and touchpad navigation for complete control over your device.
The M400 improves processes within many applications such as warehouse logistics, tele-medicine, manufacturing and field service. New apps are constantly being added to the Vuzix Appstore to enhance efficiency, accuracy and the user experience.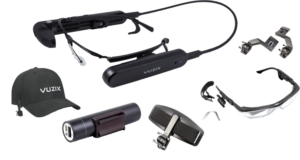 Our M400 Starter Kit includes some of our best-rated accessories for our flagship device. The kit focuses on employee performance, comfort and safety. You can view all available M400 accessories here.
Add the flexibility of using all the top selling viewer mounting options in one kit. With the M400 Starter Kit you get the most advanced product in the Vuzix M-Series family, plus:
Safety Glasses Frames (medium size)
Headband
Hat Mount with Vuzix Hat
Power Bank 3350
Safety Helmet Mounts