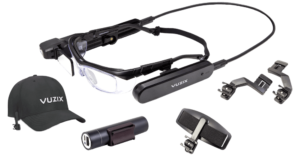 The M4000 Starter Kit includes the standard M4000 retail kit but adds all of our most popular M-series head mount accessories and an extended use power bank. Smart glasses are not universal size fit everyone. The correct head mount accessory can make all the difference to human comfort.
You can view the complete list of M4000 accessories here.
With the M4000 is our most advanced product in the Vuzix M-Series family and a celebration of Vuzix in-house optics. The starter kit add-on will get you following extra accessories.
Helmet Mounts
Headband
Hat Mount with Vuzix Hat
Power Bank 3350
Safety Glasses (medium)