The latest delivery robot designed by Pudu, BellaBot inherits the outstanding characteristics of the previous generation, while being endowed with superior human-Robot interaction capabilities. Featuring an innovative bionic design language, cute modeling, AI voice functionality, multi-modal interaction and many other new functions, BellaBot provides users with an unprecedented food delivery robot experience.
3D Omnidirectional Obstacle Avoidance
In pursuit of higher safety, BellaBot is equipped with 3D sensors and a new modular chassis. It can stop at any angle and move away as soon as it encounters obstacles.
SCHEDULER
PUDU SCHEDULER has adopted a decentralized, flexible ad hoc network communication scheme and algorithm architecture. Each robot can directly communicate with any robot in the same network, and quickly calculate and make decisions. Such design reduces the requirements for the network, reduces a central computing node that requires high computing power, and is closer to the interaction mechanism among people.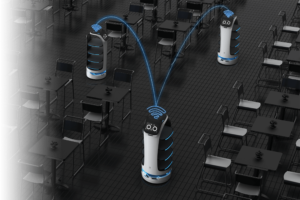 Usage scenario-Your new delivery robot server